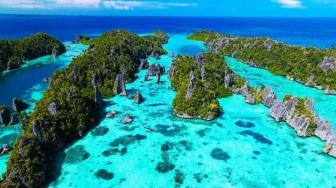 Here are 5 natural destinations in Indonesia to visit.
The Indonesian Embassy in Seoul has confirmed that talks with the South Korean government on a visa-free program are still ongoing.
Communication and Information Minister, Johnny G Plate, was detained by the Attorney General's Office (AGO) after allegedly being involved in a corruption case.
Visiting Bali? Here are 5 Delightful Balinese Foods You Have to Eat
TheIndonesia.id - Visiting Bali will not be complete without immersing yourself in diverse Balinese food. After having a day with some interesting things to do in Bali, pampering yourself with delicious food will complement your trip.
Since Balinese foods are diverse, confuse you with plenty of dishes you might want to try, we summarize the best food in Bali you have to eat. Well, here are 5 local foods you have to try when you are in Bali.
1. Nasi Campur / Mixed Rice
Mixed rice or nasi campur is a dish that is served with a spoonful of rice and some side dishes. A plate of white rice is complemented by various elements of Balinese food, such as a portion of betutu (spiced chicken or duck), babi guling (roast suckling pig), or fresh vegetables, and a bit of Balinese sauce called spicy sambal matah. In case you don't like spicy food, it can be served without sambal.
2. Gado-Gado / Indonesian Salad
Are you a vegetarian? Gado-gado is food you must try then. This Indonesian salad consists of tofu, bean sprout, tempeh, kidney beans, potatoes, cucumbers, and sometimes eggs. For the dressing, a special peanut sauce topped in the salad makes this dish really delightful: a bit spicy, salty, and sweet.
3. Laklak, A Balinese Cake
Do you have a sweet tooth? Well, Laklak is a must-try food for you then. It's a sweet traditional Balinese cake made from rice flour. It typically comes in two colors, white and green. This cake uses pandan to give it natural green color and a light aroma. It's often eaten for breakfast. However, it will be a good snack you can eat at any time.
4. Babi Guling / Roast Suckling Pig
Babi guling is an all-time favorite dish in Bali. It consists of roast pork stuffed with rich traditional spices as well as mixed vegetables such as cassava leaves, gently rolled (guling means "to roll" in Indonesian) over a charcoal fire.
The crunchy brown skin is quite prized. Meanwhile, the flesh is a tender and juicy treat. At first, babi guling was a food that was usually served at special celebrations and ceremonies. Now, you can find it in many warungs and restaurants that specialize in this cuisine.
5. Sate Lilit
Satay (or sate) is marinated, skewered, and grilled meat, presented with a spicy sauce. The meat usually consists of minced, sliced, or diced chicken, beef, mutton, goat, or pork. However, you'll also find satays made with minced tofu, fish, eggs, or a mix thereof.
There is a Bali's variant for satay called sate lilit. It's made from either minced beef, pork, chicken, fish, or even turtle meat and mixed with coconut milk, coconut, as well as a wealth combination of spices and vegetables. After that, the satay is wrapped around sticks of lemongrass, bamboo, or sugar cane before being grilled over charcoal. You can enjoy satay wrapped with or without dipping sauce.