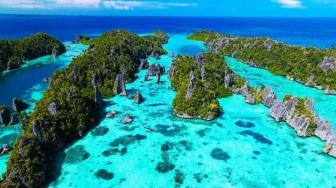 Here are 5 natural destinations in Indonesia to visit.
Yoursay.id successfully held an exciting event titled "Yoursay Explores Kotagede" on Saturday (May 20, 2023), in the area of Kotagede Mosque and several historical sites around it.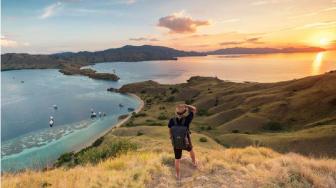 Indonesia expects to receive at least 7.4 million international arrivals to produce a $ 6 billion exchange following the spike in foreign tourists last year.
Rafting through Hundred-year-old Fossils at Merangin River
TheIndonesia.id - Jambi's Merangin Geopark held the 2021 'Geo fun Rafting.' The tour crossed hundred-year-old flora and fauna fossils in Merangin, Jambi.
The tour started from Air Batu village and finished at Teluk Wang. It explored the Batang Merangin River in the Merangin Geopark area for two hours.
Head of the Jambi's culture and tourism office, Arif Budiman, explained that the Geo Fun Rafting activity is a strategy to promote the Merangin Geopark to be included in the Unesco Global Geopark (UGG) list.
"In addition, there are seven goals to be achieved through the Geo Fun Rafting activity," said Arif Budiman.
He hoped the Merangin Jambi Geopark to become a UNESCO Global Geopark. Furthermore, he wanted to introduce the Jambi tourism area to a global audience. Lastly, the tour hopefully could restore the community's economy.
The rafting activity was held on December 2, 2021, along with the opening ceremony. The Ministry of Tourism, Geological Agency, Ministry of Energy and Mineral Resources, governor, and regent came to the event.
In addition, the region's arts, crafts, and culinary specialties were also displayed at the event.
The Executive Director of Taman Mini Indonesia Indah (TMII) Jakarta, I Gusti Putu Ngurah Sedana, expressed his excitement to promote the Merangin Geopark to become a leading tourist attraction in Jambi.
"We are ready to promote tourism in Jambi, especially the Merangin Geopark, which has extraordinary natural wealth," said I Gusti Putu Ngurah Sedana to Antara.
According to I Putu Ngurah Sedana, the geological wealth in the Merangin Geopark must be promoted as one of the leading tourist attractions in Jambi. Not to mention, the place offers challenging rafting tours and extraordinary flora and fauna fossils.
I Putu Ngurah Sedana explained that his vision to make TMII showcase Indonesian culture and natural wealth is in line with Geopark Merangin. Mainly, Merangin Geopark has been proposed to be an accredited world heritage at UNESCO.
In addition, I Putu Ngurah Sedana will also coordinate with a number of State-Owned Enterprises (BUMN) institutions to be able to provide support for the development of the Merangin Geopark.