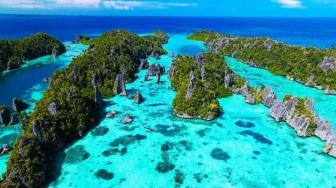 Here are 5 natural destinations in Indonesia to visit.
Yoursay.id successfully held an exciting event titled "Yoursay Explores Kotagede" on Saturday (May 20, 2023), in the area of Kotagede Mosque and several historical sites around it.
The Indonesian Embassy in Seoul has confirmed that talks with the South Korean government on a visa-free program are still ongoing.
7 Restaurants in Yogyakarta You Should Visit to Pamper Your Taste Buds
TheIndonesia.id - Yogyakarta's exceptional fervor for everything extends to its culinary scene, which boasts a diverse range of eateries ranging from authentically traditional to modern contemporary. Here are the top seven restaurants in Yogyakarta you should visit.
1. The House of Raminten
Dining at The House of Raminten makes you feel as if you've been invited to visit a local family's house and experience some of their regular pleasures. Eating becomes a full-on cultural experience, complete with a warm traditional Javanese décor, gamelan music, and heritage dishes. This restaurant offers smaller portions at lower pricing, so take advantage of this opportunity to try everything that sounds appealing, from rice dishes to cool traditional desserts.
2. Rosella Easy Dining
Many foreign tourists and city inhabitants flock to smaller cities like Yogyakarta to dine in the countryside, surrounded by rice fields and cooled by a gentle wind. This restaurant does just that, yet without sacrificing the picturesque and luxurious side. The open patio-style environment fits in nicely with the greenery, but there are elegant, romantic decorations on the table, as well as perfectly prepared and well-presented cuisine.
3. Mediterranea Restaurant
You will be pleasantly pleased to discover perfectly authentic Mediterranean food in a modest nook in Yogyakarta. Camille (who prefers to be called Kamil for a more Indonesian vibe) is a talented French chef whose enormous aspirations brought Mediterranea to life. His passion for cuisine is reflected in the extensive menu, which includes everything from pizza to kebab. Aside from the food, Mediterranea's pleasant decor will transport you to a beautiful home somewhere in Southern Europe.
4. Via Via
This restaurant in Yogyakarta, managed by the global brand Via Via, offers a menu that reflects the diversity of the world. Via Via caters to everyone's taste, from Norwegian salmon to rogan josh, making it a popular choice among expats and foreign tourists. Indonesian cuisine, on the other hand, continues to get special attention, with daily specialties that change frequently. The strong artsy vibe in the decor, handmade products, live music, and entire experience is something you can't help but notice about this place.
5. Canting Restaurant
This rooftop café should be on the top of anyone's to-do list if they want to get a taste of Yogyakarta's urban side. This restaurant has an attractive and modern design that begins with a distinctive entryway. It also offers a diverse selection of international cuisine, whether you want to eat something familiar or try something new, such as fusion. A selection of bar food and drinks is also included on the menu.
6. Mang Engking Soragan Castle
Yes, you read that correctly. It's a castle that provides cuisine to the general public. Although the outside suggests a towering medieval castle, the inside is primarily light and wonderfully domestic in the Javanese manner. You can eat inside the castle or outside beside the fish pond in one of the charming gazebos. This restaurant is known for its fresh seafood dishes and other Indonesian cuisines. Whatever you choose, make sure it includes your choice of its famous chili condiments.
7. Jejamuran
Calling all vegetarians: it's easy to forget about meat when mushrooms are cooked properly and wonderfully. Everything here is created with different kinds of mushrooms, from soup to skewers and deep-fried treats. The juicy texture and exquisite umami flavor will make you forget that you're eating a mushroom. After your incredibly nutritious and tasty dinner, wash it down with fresh juice and feel instantly better.