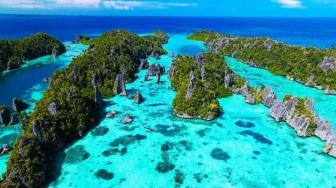 Here are 5 natural destinations in Indonesia to visit.
The Indonesian Embassy in Seoul has confirmed that talks with the South Korean government on a visa-free program are still ongoing.
Communication and Information Minister, Johnny G Plate, was detained by the Attorney General's Office (AGO) after allegedly being involved in a corruption case.
Sate Kere, President's Favorite Satay, Healthier Choice
TheIndonesia.id - Sate or Satay is one of the Indonesian foods that have many varieties. There is chicken satay, lamb satay, sate lilit, sate Padang, and sate kere. Sate Kere is a favorite food of President Jokowi which has a long history.
Kere means poor and relates to satay ingredients that do not use full meat. Sate Kere uses little or no meat at all but sometimes mixed it with beef offal or fat.
The seller uses tempeh or "Tempe Gembus" which is made from tofu dregs. Then served it with peanut sauce and rice cake (same as chicken satay).
Based on history, Sate Kere is a typical food from Solo, Central Java (the hometown of President Jokowi). It appeared during the Dutch colonial period when the price of meat was expensive.
Meat-based food was a luxurious food that can only be eaten by elites. Meanwhile, commoners cannot afford meat so they replace it with tempeh and beef offal.
Despite using simple ingredients, the taste of the satay is delicious and impressive. Sate Kere uses beef offal from the liver, tripe, intestines, or lungs. Meanwhile, tempe gembus is cooked with bacem spices first, before being burned. While the peanut sauce from Sate Kere has a spicy, sweet, and savory taste.
Now, Sate Kere is becoming a unique food at an affordable price. It became everyone's meal after Pak Jokowi included the Sate Kere menu in his son's wedding banquet.
Sate Kere is becoming more popular not only in Solo, Central Java but also in other cities. By the way, here is a list of recommended food stalls in Solo!
1. Sate Kere Yu Rebi
Sate Kere Yu Rebi is one of the famous sate kere in Solo. You can find this shop at Jalan Kebangkitan Nasional No. 2, precisely behind Sriwedari Stadium in Solo. This stall has been around since 1986 and is only open from 10 am to 5 pm. Sate Kere Yu Rebi provides satay of various types of beef offal, meat, and tempeh gembus for IDR 10,000 ($0.7) per serving.
2. Sate Kere Mbak Tug
Sate Kere Mbak Tug is President Joko Widodo or Jokowi's favorite satay cart stall. This satay stall, which has been selling since 1977, is located at Jalan Arifin 63, Jebres, Surakarta, right next to the parking lot of Nini Thowong Restaurant Solo. This kere satay stall is open from 1 pm to 4.30 pm while at night it is open in front of the Maria Mojosongo Cave. One serving of Sate Kere Mbak Tug is sold at a price of Rp. 25,000 ($1.8), contains 8 skewers of beef offal, tempe gembus, and rice cake covered in peanut sauce.
3. Sate Kere Mbah Yem
Sate Kere Mbah Yem which is in front of the Kemlayan Village office, precisely on Sukoreno Street, Kemlayan, Serengan, Solo. What sets Mbah Yem's Sate Kere apart from other Sate Kere is the spicy chili sauce added with sliced cayenne pepper. Sate Kere Mbah Yem is open from 10.00 am to 12.30 pm with prices starting from Rp. 10,000 ($0.7) per portion.
4. Sate Kere Bu Sri
Sate Kere Bu Sri is located south of the door of Luwes Sangkrah Solo. Especially on Sundays, Mrs. Sri moved to a stall at Car Free Day (CFD) Slamet Riyadi, near Sami Luwes. Mrs. Sri peddles her wares starting at 2 pm until the merchandise runs out. Besides satay kere, there are also other menus such as koyor, kikil, beef kidney, and so on.
5. Sate Kere Yu Tari
Sate Kere Yu Tari, which used to be on Jalan Kebangkitan Nasional, has now moved to a shelter next to the Surakarta Palace. The shop is open from 9 am to 4 pm.
Sate Kere Yu Tari returned to selling in front of the Sami Luwes supermarket on Jalan Honggowongso. There Yu Tari is open from 17.00 to 21.00 WIB.
The price of a serving of satay kere starts from IDR 10,000 ($0.7) with 10 skewers and stuffed rice cake. Don't miss this food stall to taste the uniqueness of Sate Kere when you are on vacation in Solo.
By the way, Solo is only two hours ride by car from Yogyakarta or Yogyakarta. There are also daily flights from Jakarta or Bali to Solo Airport.