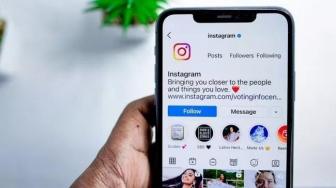 There are two types of deactivating Instagram; temporarily and permanently. Here are the steps to deactivate your Instagram account.
Mount Bromo is reopened for tourists on November 30, 2021.
A police officer got caught on camera for taking an unusual bribe, a sack of shallots. The video of the incident was recorded and uploaded to Instagram by account @romansasopirtruck, Monday 1 November 2021.
How To Delete Your Instagram Account Temporarily and Permanently
TheIndonesia.id - Instagram is a social media platform used by many people around the world. However, along with the users' escalation, Instagram becomes a place for some people who violate privacy. Not a few users are looking for ways to delete Instagram accounts for that reason or others.
Deleting your Instagram account is not difficult. With a note, this action is fully acknowledged so you would not regret it later.
There are two ways to delete an Instagram account, deactivating the account temporarily and permanently.
How to delete an Instagram account temporarily
First, enter the PC or smartphone browser and open the official Instagram site, ingtagram.com.
Log in to your Instagram account.
Click on your profile, and select Edit Profile.
Scroll down to the bottom and find the Temporarily Disable My Account option, or Temporarily Disable My Account.
Select the reason listed as an option to deactivate your account.
Enter your account password, then click that option.
Your account will be temporarily deactivated.
How to delete an Instagram account permanently
Sign in to the account you have, either from a smartphone or PC.
Go to the link https://www.instagram.com/accounts/remove/request/permanent/
Choose one of the reasons of why you want to delete your account.
To confirm, enter the Instagram account password.
If you are sure to delete the account, click Permanently Delete My Account.
Done, your Instagram account has been permanently deleted.
By clicking the delete button, you are officially sending the deletion request to Instagram. After 30 days, Instagram will officially delete your Instagram account. Instagram notes that it might take time up to 90 days for the process to complete.
Those are the steps for deleting an Instagram account. However, before deleting your Instagram account permanently, make sure you have thought through everything.
After you've deleted it permanently, the account will completely disappear from the Instagram data directory, so whatever you do, will not work to restore your account.