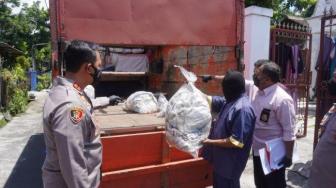 Animal lover organization Animal Defenders Indonesia reported that Solo is the biggest city consuming dog meat in Indonesia.

"The name is Bandaraya factory, which is planned to be operational next year," said Nestle Indonesia Corporate Affairs Director Sufintri Rahayu
Zailis was brutally tortured by her employer in Malaysia.
Central Java Continues Quarantine for Returning Migrant Workers
TheIndonesia.id - Central Java government continues to enforce mandatory quarantine for migrant workers who are returning to their hometowns, as a preventive measures to contain the spread of COVID-19 in the province.
Head of Central Java's manpower and transmigration office Sakina Rosellasari the local government still requires returning Indonesian migrant workers to quarantine, and more than 500 migrant workers have completed their quarantine period.
"From January 1, 2022, to February 6, 2022, 606 migrant workers have returned from abroad, and currently, 564 people have finished quarantining," Rosellasari said on Monday, February 7, as reported by Antara.
Rosellasari said authorities have appointed entry points for migrant workers who originated from Central Java, so strict monitoring and screening can be more easily conducted.
"Migrant workers from Central Java enter from Soekarno-Hatta airport [in Serang] and Juanda airport in Surabaya. Soekarno-Hatta already has the standard operating procedures to determine the length of quarantine based on countries [the migrant workers] return from," she explained.
The procedure is considered an improvement from 2020's practice where flights from Singapore to Ahmad Yani airport in Semarang, Central Java, were still allowed. Ships from Pontianak were also still allowed to dock in Tanjung Emas port last year, in which passengers would then be quarantined in the province's human resource development agency (BPSDMD).
The current practice is considered safer and more controlled because migrant workers will be tested and required to quarantine once they land at the two airports.
Some of the returning migrant workers arrived from Malaysia (199 people), Hong Kong (139), Singapore (94), Taiwan (81), and South Korea (42), and they are heading to Cilacap, Brebes, Kendal, Kebumen, and Banyumas.