The president said Indonesia has gradually managed to handle the pandemic and has been returning to normalcy.
They are set to be destroyed immediately.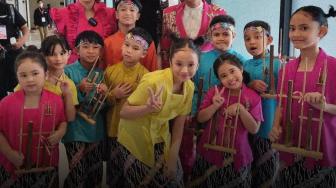 Saung Angklung Udjo was built with the purpose and dedication of conserving West Javas Sundanese traditional art and culture.
West Java Entering COVID-19's Third Wave
TheIndonesia.id - West Java is experiencing the third wave of COVID-19, as the number of Omicron cases have continued to spike since early January 2022, the province's governor stated.
"We have entered the third wave of COVID-19, especially for Bogor, Depok, Bekasi, and Greater Bandung, due to the rapid increase (in the number of COVID-19 cases) in the past month, from 500 (cases) to 50 thousand. This must be addressed, especially for regions outside the agglomeration (areas) to tighten health protocols," Kamil noted at the Pakuan Building as quoted by Antara on Monday, February 7, 2022.
He remarked that although the province had entered the third wave, the condition is not as bad as during the second wave caused by the Delta variant during which a spike in the death toll was recorded.
The governor explained that despite the current number of daily cases during the Omicron spread being already at par with the figure during the Delta spread in several regions, such as Depok and Bekasi, the bed occupancy rate in hospitals during the Omicron spread is still much lower.
"It strengthens (the claim) that Omicron is more transmissible, but its fatality is low. For that reason, focus on staying at home, Inshallah (if God wills), you will recover," he emphasized.
The governor notified that most COVID-19 patients treated in hospitals had not been fully vaccinated against the virus. Kamil also remarked that apart from the agglomeration areas, such as Bogor, Depok, and Bekasi, Greater Bandung had also implemented the level 3 public activity restrictions (PPKM).
"Mr Pandjaitan (Coordinating Minister for Maritime Affairs and Investment) has announced the level 3 PPKM status for Bodebek (Bogor, Depok, and Bekasi) agglomeration and Greater Bandung," he stated.
Earlier, the governor had confirmed that 80 percent of the COVID-19 cases in West Java were concentrated in Depok City, Bogor District, Bogor City, Bekasi District, Bekasi City, and Bandung City, while the rest 20 percent cases were spread across other regions.
He also noted that the implementation of face-to-face learning in those six regions would be evaluated.