The state officials saw an opportunity to develop cable car in new capital Nusantara.
Waste-contaminated water from nearby river flooded the farming area during rainy days.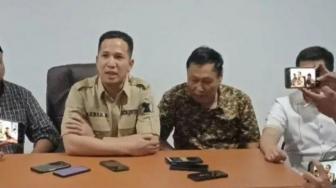 A member of the Palembang Regional House of Representatives, Syukri Zen, finally learned a bitter lesson from his arrogant attitude in hitting women at gas stations.
Indonesia to Go Ahead with Cable Car Projects in Mount Rinjani, Pagar Alam
TheIndonesia.id - The West Nusa Tenggara (NTB) government has confirmed that cable car project in the province's world-famous Mount Rinjani will continue and is aimed at developing sports tourism in the area.
Head of Central Lombok's Regional Development Planning Board (Bappeda) Lalu Wiranata said the cable car is designated to support sports tourism and attract more tourists to Mount Rinjani.
"Cable car becomes an alternative for tourists who can't climb, so they can still see the beauty of Mount Rinjani," Wiranata said on Wednesday, April 27, as reported by Antara.
Wiranata also ensured that the construction of a cable car system will not cause porters across the area to lose their job.
"Those who can climb will use the service of porters while tourists who are unable to climb can use the cable car," he explained.
According to reports, the location of the cable car will be in Karang Sidemen village, North Batukliang subdistrict, Central Lombok and to Pelawangan Gunung Rinjani.
Construction process is expected to start this year, and investors are currently conducting the environmental impact assessment and feasibility study.
"We're still waiting for information from the West Nusa Tenggara government on whether or not it's feasible to build the cable car," Wiranata revealed.
The project is funded by Chinese investors, and the investment value is Rp100 billion (US$7 million). To show their serious intention, the investors have handed Rp5 billion to NTB provincial government.
Cable Car Project in Pagar Alam
Meanwhile, similar cable car project has also been agreed between state-owned train manufacturing company PT INKA and Pagar Alam local government in South Sumatra province.
On Tuesday, April 26, representatives from the two camps signed an agreement on the study of cable car project to support tourism industry in Pagar Alam.
"Pagar Alam government has tourist attractions in their area, and INKA will conduct a feasibility study for cable car in that area," president director of PT INKA Budi Noviantoro said on Wednesday, April 27, as reported by Antara.
He explained tourists will be able to enjoy the scenery from inside the cable car.
Pagar Alam deputy mayor Alpian Maskoni said the city is a tourist destination, and his office must invent something new that will attract more tourists.
"And the idea for cable car was born. We're optimistic PT INKA's experience will help us, and we hope this project can happen," he said.
According to the plan, the cable car project in Pagar Alam will support tourism in tea farm area in Mount Dempo.