The rising flights costs have resulted in a declining numbers of domestic and international tourists in Bali.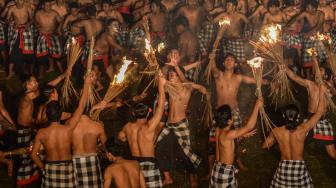 It will be held on August 24-28 at Astina Field in Gianyar, Bali.
"In investment theory, one shouldnt put all their eggs in one basket."
More Than 435,000 Tourists Enter Bali During Idul Fitri Holidays
TheIndonesia.id - The Indonesian Police has revealed that more than 435,000 tourists have entered Bali during the Idul Fitri holidays, as authorities work and prepare strategies to anticipate congestions.
Chief of the Indonesian Police (Kapolri) General Pol. Listyo Sigit Prabowo said on Thursday that hundreds of thousands of tourists have come to Bali as Indonesians enjoy a long Idul Fitri holidays this week.
"This creates positive impacts to Bali's economy which has started growing," Prabowo said on Thursday, May 5, as reported by Antara.
As activities in various destinations intensify, he said the police will closely monitor the implementation of health protocols by visitors as well as preparing strategies for mudik reverse flow.
"The peak of 2022's Lebaran reverse flow will happen on May 8, and in order to anticipate congestions of four- and two-wheeled vehicles going in and out of Bali, we have prepared the necessary strategy," the Kapolri said.
For locations that become mudik routes, such as ferry ports, the police is coordinating with the Ministry of Transportation to prevent passenger accumulation by optimizing ships operating ships.
Furthermore, traffic engineering that was employed during mudik will also like to be implemented during the reverse flow, especially in toll roads.
As also communicated by President Jokowi, Prabowo lastly asked Indonesians to avoid making their reverse trips during the peak to minimize congestions.