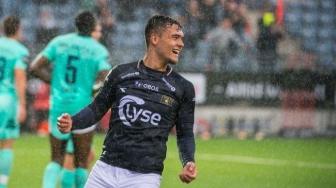 The naturalization process is given the green light because it is seen as a beneficial option for Indonesian football.
Women, men, and children were all crushed before the exit gate of Kanjuruhan Stadium. From the pitch, police continued to fire tear gas while the gate was locked. At Gate 13, lives were lost.
the citizenship process of Jordi Amat and Sandy Walsh will be forwarded to the Ministry of State Secretariat to be submitted to President Joko Widodo. The President will later issue a Presidential Decree for the citizenship of the two names.
Indonesia Considers Joining Bid to Host Asian Cup 2023 After China Withdrew
TheIndonesia.id - The Indonesian Football Association, or PSSI, has revealed that it is considering to join bid to host the 2023 Asian Cup after China withdrew from hosting the event due to the ongoing COVID-19 pandemic.
PSSI chairman Mochamad Iriawan said there's a possibility that Indonesia will announce bid to host the Asian football championship, but the plan will first be discussed by PSSI leading figures.
"We will have to discuss this in the executive committee meeting. After that, we will announce [the decision]," Iriawan said on Monday, May 30, as reported by Antara.
Malaysian media the Sun Daily previously reported that the Asian Football Confederation (AFC) is inviting its 47 member states to join the bid to replace China to host the event next year.
Iriawan said it's a good opportunity for Indonesia, because if appointed, the Indonesian national team will automatically qualify for the tournament.
According to Chinese news network CGTN, AFC has set out a number of requirements for potential host country, including having at least five stadium with minimum capacity of 20,000.
The stadium that becomes the location for opening and closing ceremonies must also have a capacity of at least 40,000.
Domestic flight is another required feature when the distance between match locations is more than 200 kilometers.
As previously reported, appointed host China was forced to withdraw from hosting the 2023 Asian Cup as the East Asian country continues to grapple with COVID-19 outbreak.
On May 14, AFC stated, "Following extensive discussions with the Chinese Football Association (CFA), the Asian Football Confederation (AFC) has been officially informed by the CFA that it would not be able to host the AFC Asian Cup 2023."
"The AFC appreciates that China PR, the CFA, and the AFC Asian Cup China 2023 Local Organizing Committee (LOC) have made this very difficult but necessary decision in the collective interests of the AFC Asian Cup 2023."