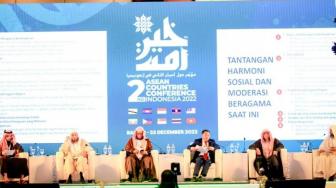 This conference can hopefully strengthen the position of ummah on the global stage."
He said that Saudi Arabia wants to invest in several sectors that are currently being developed in Indonesia.
The woman born in 1984 does not receive a salary (wages) and cannot communicate with her family in her hometown in East Lampung.
Lawmaker Questions Saudi Arabia Bans Citizens Travel to Indonesia
TheIndonesia.id - Member of the Indonesian House of Representatives (DPR), Nurul Arifin, questioned the Saudi Arabian government's ban on its citizens to visit Indonesia. Indonesia is among 16 countries in Saudi banned to visit.
"The Saudi Arabian government prohibits its citizens from entering Indonesia, why?" she said during the Commission I Working Meeting of the DPR with the Ministry of Foreign Affairs at the Parliament Complex, Senayan, Jakarta, Tuesday, May 31, 2022.
She questioned why Indonesia joined one of the 16 countries banned by the Saudi Arabian government while also limiting the number of Indonesian citizens who wanted to go to Saudi Arabia. "This is discriminatory treatment," said the Golkar Party politician.
Regarding this matter, the Indonesian Minister of Foreign Affairs, Retno LP Marsudi, said that she had not yet received a response as to why Indonesia was one of the 16 banned countries. "After receiving the information, we immediately moved, met the Saudi Arabian Ambassador to Indonesia, and I have communicated directly with the Saudi Arabian Foreign Minister," explained Retno.
According to her, if the policy is related to the COVID-19 situation, the Ministry of Foreign Affairs has submitted data on COVID-19 handling to the Saudi Arabian government. Even Retno believes that Indonesia is one of the countries that is quite good at handling COVID-19 so far.
"There is a plan for a visit by the Saudi Arabian Foreign Minister to Indonesia early next month, this is an opportunity for us to discuss the issue," she said.