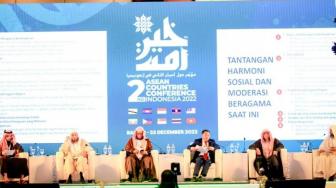 This conference can hopefully strengthen the position of ummah on the global stage."
Indonesian Ambassador to Malaysia Hermono said that based on the death certificate issued by the hospital, Prof. Azyumardi Azra died of "acute inferior myocardial infarction".
for Islamic boarding schools, there is already Law No. 18 of 2019 concerning Islamic Boarding Schools and its implementing regulations governing the Pesantren Endowment Fund
Four Members of Khilafatul Muslimin Arrested Including Financiers
TheIndonesia.id - The Directorate of General Criminal Investigation (Ditreskrimum) of the Jakarta Metro Jaya Police arrested four important figures of Khilafatul Muslimin organization in several areas. Head of Public Relations Division of the Jakarta Police Senior Commissioner Endra Zulpan said here on Sunday that the four people were identified by their initials as AA, IN, F, and SW.
"The arrests of four people occurred on June 11, 2022. They were caught in three different locations, namely in the headquarters of Khilafatul Muslimin in Lampung, in Pekayon of Bekasi, and in Medan," Endra Zulpan said.
The four people had different roles in the Khilafatul Muslimin organization. AA was the secretary of the Khilafatul Muslimin who ran operations and finances, he said.
IN, who was arrested by officers in Lampung, played a role in spreading the doctrine through the education system and training organized by the organization, the police spokesman said.
"F who was arrested in Medan is the person in charge of finance and fundraiser for the Khilafatul Muslimin. In Bekasi, SW plays the role of administrator and founder of the Khilafatul Muslimin along with their highest leadership," Zulpan added.
During the arrest, Zulpan said that the police also seized evidence such as attributes of the Khilafatul Muslimin, books and bulletins related to the organizations, as well as several computers.
Furthermore, the Jakarta Metro Jaya Police have named the four people suspects in line with Article 59 paragraph 4 and 82 paragraph 1 of Law Number 16 of 2017 concerning mass organizations.
"And or Article 14 paragraphs 1 and 2, and or Article 15 of the Law of the Republic of Indonesia Number 1 of 1946 concerning criminal law regulations with a minimum prison sentence of five years and a maximum of 20 years in prison," he said.