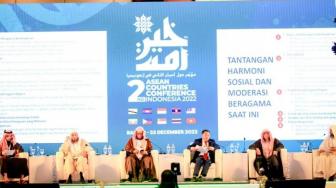 This conference can hopefully strengthen the position of ummah on the global stage."
Indonesian Ambassador to Malaysia Hermono said that based on the death certificate issued by the hospital, Prof. Azyumardi Azra died of "acute inferior myocardial infarction".
for Islamic boarding schools, there is already Law No. 18 of 2019 concerning Islamic Boarding Schools and its implementing regulations governing the Pesantren Endowment Fund
Police Acquire Tens of Thousands of Muslim Khilafatul Members Master Data
TheIndonesia.id - The Directorate of General Criminal Investigation of the Greater Jakarta Metropolitan Police found that Khilafatul Muslimin has made a Citizen Identification Number (NIW) to replace the electronic Identity Card (KTP) issued by the Government of the Republic of Indonesia. The Citizen Identification Numbers data were found by the police during the arrest of several members of this organization.
The statement was delivered by the Head of Public Relations of the Greater Jakarta Metropolitan Police Grand Commissioner Endra Zulpan in the press release on the arrest of members of the Khilafatul Muslimin. "There is an interesting finding. They also made this citizen identification number or NIW used by the Khilafatul Muslimin to replace the e-KTP issued by the Indonesian government," Zulpan said in Jakarta, Sunday, June 12, 2022.
Zulpan explained that officers found tens of thousands of master data for members of the Khilafatul Muslimin. The discovery of this citizen identification number data was the result of the arrest of four members of the Khilafatul Muslimin organization. The arrest of the four suspects who act as administrators is also a follow-up to the arrest of the leader of the Khilafatul Muslimin named Abdul Qadir Hasan Baraja on Tuesday, June 7, 2022.
Then, the Jakarta Police investigators have also searched the headquarters of the Khilafatul Muslimin community organization in Lampung. on Wednesday. Zulpan said several items were confiscated during the search, such as documents related to the caliphate.
"The findings we obtained at the Khilafatul Muslimin head office were in the form of books and documents. Among them were related to the caliphate, then NII, and also ISIS," said Zulpan.
Abdul Qodir and his four members were named as suspects under Article 59 paragraph 4 in conjunction with Article 82 paragraph 2 of the Republic of Indonesia Law Number 16 of 2017 concerning Social Organizations.