Indonesia has announced six stadiums across the country to host matches in the final round of the tournament.
the citizenship process of Jordi Amat and Sandy Walsh will be forwarded to the Ministry of State Secretariat to be submitted to President Joko Widodo. The President will later issue a Presidential Decree for the citizenship of the two names.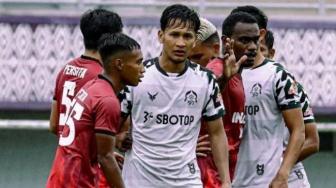 LIB and PSSI have claimed they never partnered with and was never included in clubs' deals with alleged gambling companies.
Six Stadiums will Serve the 2023 FIFA U-20 World Cup in Indonesia
TheIndonesia.id - Youth and Sports Minister Zainudin Amali ensured that the six main stadiums and supporting grounds for the 2023 FIFA U-20 World Cup are ready to serve as venues for the football championship. The 2023 FIFA U-20 World Cup will take place in Indonesia from May 20 to June 11, 2023, with 24 participating countries, including Indonesia, as the host.
According to the minister, the Ministry of Public Works and Public Housing, which is in charge of the infrastructure, has also conducted minor renovations to the stadiums that are currently still used for domestic league matches.
"However, overall, FIFA does not mind because they are only minor renovations. The six main stadiums and the training grounds are all ready in six cities," he remarked here on Tuesday.
The six stadiums that have been readied for the U-20 World Cup are Gelora Bung Karno Stadium in Jakarta; Jakabaring Stadium in Palembang, South Sumatra; Si Jalak Harupat Stadium in Bandung, West Java; Manahan Stadium in Surakarta, Central Java; and Gelora Bung Tomo Stadium in Surabaya, East Java; and Kapten I Wayan Dipta Stadium in Gianyar, Bali.
Initially, the 2023 FIFA U-20 World Cup was scheduled to be held last year, but FIFA decided to postpone it due to the COVID-19 pandemic. Thus, the stadiums were then used for matches between local football clubs.
Nevertheless, Amali affirmed that the six main stadiums remain under the supervision of the Public Works and Public Housing Ministry to ensure that they meet the standards set by FIFA. He noted that in October, FIFA will again inspect preparations for the 2023 U-20 World Cup in Indonesia.
He also urged the public to not harbor doubts over the implementation of the U-20 World Cup in Indonesia, especially since FIFA had released the official logo as well as attended the launch of the mascot in Jakarta.