Child marriage is related to a low education level, she said referring to a UNICEF report.
A total of 7,000 cultivated bilih fish were released to their natural habitat in Lake Singkarak, West Sumatra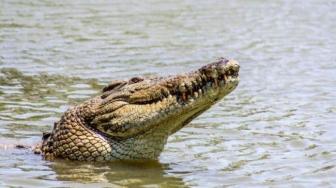 A Crocodylus porosus was found just behind state elementary school SDN 12 Pasia Paneh in Tanjungmutiara subdistrict, Agam regency.
World's Leading Producer to Regulate Uncaria to Stabilize Prices
TheIndonesia.id - The Governor of West Sumatra, Mahyeldi, hopes that the Regional Regulation (Perda) on the Trading System for Leading Commodities can be a solution to stabilize Uncaria, locally known as gambier, prices so that farmers are more prosperous. West Sumatra is the world's main producer of Uncaria.
"Gambier is a superior product of West Sumatra (West Sumatra) which is hardly owned by other regions in the world. However, until now gambier farmers have not felt welfare, especially when prices fall. This is one of our concerns. One solution that is expected is through a regional regulation," said Mahyeldi amid the Ramadan Safari at the Al Munawarah Mosque, Bayang District, Pesisir Selatan Regency, Sunday night, April 3, 2022.
According to him, the Regional Regulation on the Trading System for Leading Commodities initiated by the West Sumatra DPRD is in line with the government's goal to provide price certainty so that the welfare of gambir farmers can increase. "We fully support the regulation so that it can be enacted immediately," he said.
Meanwhile, a member of Commission II of the West Sumatra House of Representatives, Mochlasin, said that he is very serious about realizing the regional regulation which was expected to provide a solution to the stability of the gambier commodity. "It is a pity that this commodity is not managed properly because 80 percent of the world's gambier production comes from Indonesia and most of it from West Sumatra. This is a great opportunity to be developed," he said.
He said the academic notes have been completed and will soon be proposed in the province's House of Representatives (DPRD) agenda. "Shortly we will invite the Gambier Association to have an audience with Commission II of the West Sumatra DPRD to complete the draft of this regional regulation," he said.
Farmers who are members of the Gambir Association inputs are expected to strengthen local regulations, especially regarding the trading system so that they can truly prosper the farmers. The regulation can be a legal basis for the formation of a task force that can take action if the trading system does not work properly to the detriment of farmers.
Indonesia is a supplier of 80 percent of gambier commodities in the world market. Gambier demand from India as the main destination for gambier exports also continues to increase reaching 13-14 thousand tons per year. Besides India, Indonesia's gambier export market includes Japan, Pakistan, the Philippines, Bangladesh, and Malaysia.
In addition to gambier, the regional regulation will also discuss other leading products such as rice, corn, and onions.