The farm was found on Saturday.
DPRA will invite medical experts and researchers to kick off the discussion.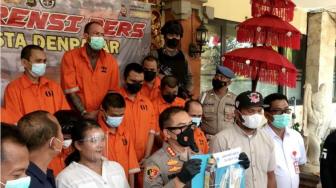 The Denpasar Police confiscated nearly 400 grams of liquid cannabis from a US nationality who was arrested in the Kuta area, Badung, Bali.
Marijuana Legalization in Thailand Brings Impact on Indonesia
TheIndonesia.id - The Director of Drug Crimes at the National Police Criminal Investigation Agency Brigadier General Krisno H Siregar emphasized that policy to legalize marijuana is in the interests of each sovereign country in the world. In Indonesia, marijuana is still a Class I narcotic.
"Indonesia's political views on natural narcotics of the marijuana type still place it as a class I narcotic," Krisno said in confirmation in Jakarta, Sunday, June 19, 2022.
Based on Article 6 paragraph (1) of the Narcotics Law, types of narcotics can be classified into 3 groups, namely narcotics class I, class II and class III. Class I narcotics are narcotics that can only be used for science and technology, are not used in therapy, and have a very high potential for causing dependence.
According to Krisno, the legalization of marijuana in Thailand has an impact on Indonesia, which seeks to prevent and eradicate drug abuse and illicit trafficking, especially for those who want marijuana to be legalized in Indonesia. "Of course, it has an impact, especially on those who want marijuana to be legalized in Indonesia," he said.
This, said Krisno, is certainly a challenge not only for the Police but also for the Indonesian government, how to protect the entire nation and the younger generation from the threats and dangers of drug abuse and illicit trafficking in the country. However, Krisno also emphasized that efforts to prevent and eradicate drug abuse and illicit trafficking (P4GN) have been carried out by the National Police.
No Discussion
The Head of the National Narcotics Agency (BNN) RI Commissioner General of Police Petrus Reinhard Golose reiterated that there is no discourse discussing the legalization of marijuana for medical or recreational needs in Indonesia even though several countries have started to legalize the opium plant.
"There is no discussion to date for the legalization of marijuana. Elsewhere there are, but not in Indonesia," said Petrus Golose on the sidelines of the commemoration of the 2022 International Anti-narcotics Day (HANI) in Badung, Bali.
He said that although some countries have started to legalize marijuana, in terms of numbers, there are still more countries that make the opium plant illegal. He gave an example that the marijuana legalization policy in the United States was only in some states, not centrally or at the federal level. In Southeast Asia, only Thailand has legalized the cultivation and use of cannabis for medical purposes.
"However, let it be in other countries. I remain consistent not to (discuss the discourse) legalizing marijuana," said Petrus Golose on the sidelines of the international table tennis tournament which is part of the 2022 HANI series in Bali.
Kratom
Besides marijuana, Indonesia has another natural narcotic plant named Kratom. It had attracted public attention because it was considered to have an additive effect. Golose said that his agency was still studying it.
"Kratom is still in progress, we are seeing how until now it is still waiting. There are rules we have to follow. However, we from BNN propose it to be one of the ingredients in changing the (Narcotics) Law," said the Head of BNN.
Last year, BNN announced its plan to propose that kratom (Mitragyna speciosa) be included in class I narcotics so that the plant cannot be used for treatment. The plan sparked a polemic because several community groups used kratom as an ingredient in traditional/herbal medicines.
Deputy Regent of Kapuas Hulu Wahyudi Hidayat, this month, said that the kratom plant has the potential to be a driver of a sustainable and environmentally friendly community economy. He added that currently, kratom is one of the native plants of Kapuas Hulu which is still cultivated by several communities.
However, BNN believes that kratom has stronger side effects than morphine, a substance that is currently classified as a class II narcotic in Indonesia.