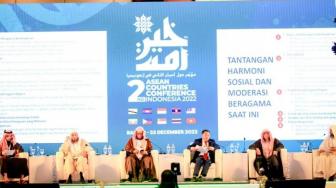 This conference can hopefully strengthen the position of ummah on the global stage."
The governor revealed that tourist attractions and regions that will be designated as EV-only zones are Nusa Dua, Kuta, Sanur, Denpasar, Ubud, Gianyar, and Nusa Penida.
The rising flights costs have resulted in a declining numbers of domestic and international tourists in Bali.
Superman Is Dead is Going Indie, will Release Prison Recording
TheIndonesia.id - Punk rock band Superman Is Dead (abbreviated as SID) on Thursday, coinciding with the 27th anniversary, announced that they were back independent and had concluded their collaboration with the label Sony Music Indonesia. SID was formed on August 18, 1995, and has since released three independent albums including "Case 15" (1997), "Superman Is Dead" (1998), and "Bad Bad Bad" (2002).
This group later joined the major label Sony Music and released six albums since 2003 starting with the album "Kuta Rock City" to "Three Perompak Senja" (2018). In addition, SID has also issued a vinyl album under the auspices of Sony Music entitled "The Early Years, Blood, Sweat and Tears" (2012) which contains their best songs.
"Yeah, back to indie again. We plan to form new management for where to take SID in the future," said Bobby Kool, guitarist and vocalist for SID, during a media gathering from Bali which was followed virtually on Thursday.
Furthermore, Kool explained that the reason SID returned to being independent was that the contract with Sony Music had ended. In the next step, SID plans to build its own management.
"And we also learned a lot (when we were) at major labels. Lots to learn. (After the contract was completed we have a question) did we have to enter a major label again, and there we decided not to enter a major anymore, "said Kool.
Jerinx, the drummer, added that the decision to return to independence will bring about many changes in the SID, from a business perspective to system management. "Anyway, there will be a big change from SID this year because there are many adaptations to the current music business. And other aspects outside of music, we will combine them into one, so that everything is under one door," he said.
Ending the collaboration with Sony Music, SID will launch a video clip entitled "About Tiga" which contains the story of the journey of the three personnel. The last video under the auspices of Sony Music is planned to be broadcast through the official SID YouTube channel.
Music Video Director Erick Est said the idea of making the video clip had actually been planned for a long time since 2020. He explained the contents of the video such as documentation or a summary of the stories of three SID personnel.
According to Erick, the biggest challenge in making "Tentang Tiga" video is converting the raw recording format that is still stored on the cassette into digital form. The cassette was given by SID to Erick, containing the moment when three personnel carried out activities together.
After leaving Sony Music, SID also plans to release new works recorded by Jerinx while in prison. Bobby said their new song will be in the mixing stage.
The work, Jerinx added, will also be made in the form of a video clip and some parties will support it. According to him, SID's new work will be the first in the world to be recorded in prison.
"If there are those who make clips in prison, Metallica, Johnny Cash. But for the record that doesn't exist yet," said Jerinx.