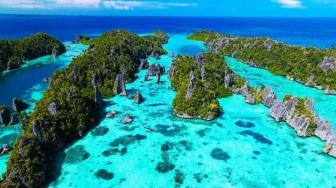 Here are 5 natural destinations in Indonesia to visit.
The Indonesian Embassy in Seoul has confirmed that talks with the South Korean government on a visa-free program are still ongoing.
Communication and Information Minister, Johnny G Plate, was detained by the Attorney General's Office (AGO) after allegedly being involved in a corruption case.
Indonesia to Produce Electric Car Battery by 2023
TheIndonesia.id - Coordinating Minister for Maritime Affairs and Investment, Luhut Binsar Pandjaitan, stated a 10-GWh EV cell battery factory is being built in Indonesia at an investment of US$1.1 billion, or equivalent to Rp15.9 trillion. The factory is a part of consortium projects worth US$ 9.8 billion, he informed.
"It is such a long work. We are grateful that it happens, and we expect it to start the production in 2023," he remarked, quoted by Antara news agency.
Indonesia needs massive investment to build its battery charging infrastructure, Pandjaitan added. He said that the government is targeting to build 31,859 public EV charging stations (SPKLU) and 67 thousand EV battery swap stations (SPBKLU).
"We have planned to build the charging infrastructures, so no need to worry," he stressed during a webinar organized by Institut 10 Nopember (ITS) here on Wednesday, November 17, 2021.
"The demand for batteries will rise in line with the growing demand for EVs. In 2027, the global battery market will reach 777 GWh. Meanwhile, in Indonesia, the battery capacity needs are predicted to reach 9.8-11.9 GWh in 2029-2030," the minister expounded.
Given its potential, Indonesia can be a global EV supply chain hub due to its large mineral resources, according to Pandjaitan. The country has reserves of nickel, bauxite, copper that are key minerals for EV development, he said.
The commitment to climate change, the big potential for nickel and other metal minerals, as well as the serious ambition to realize an integrated EV industry from upstream to downstream are part of Indonesia's push to build a global supply chain ecosystem either for the battery industry or battery-based EVs, he explained.
Therefore, massive and comprehensive investment is required for developing the EV ecosystem in Indonesia since it is very complex and big, comprising raw material suppliers, manufacturers, and charging and recycling infrastructures.
Indonesia's electric vehicle (EV) utilization target reflects the government's commitment to cut emission levels by 2030 or sooner. In keeping with its commitment, the Indonesian government is targeting full EV utilization, especially for motor vehicles, by 2060, the minister said.