Waste-contaminated water from nearby river flooded the farming area during rainy days.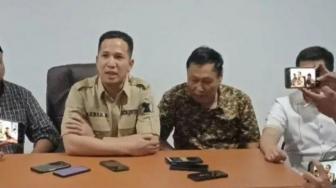 A member of the Palembang Regional House of Representatives, Syukri Zen, finally learned a bitter lesson from his arrogant attitude in hitting women at gas stations.
A visit to Indonesia will not be completed without experiencing the richness of Indonesian culture, one of them is Batik.
Globalization, Migration Negatively Impact Local Language Vitality: Study
TheIndonesia.id - A study has found that the vitality of local languages in South Sumatra are getting weaker, and intervention is considered necessary to prevent the languages from being entirely extinct.
Head of South Sumatra's language center Umar Solikhan said almost all local languages experience lower vitality, especially in urban areas, including the province's local languages. The reduced vitality was also found in the more widely-spoken languages, including Java and Sunda.
As reported by Antara on Monday, March 7, according him, globalization, along with migration and interethnic marriage, contribute to the condition.
A study conducted by the language center found that globalization has led citizens to a certain language with stronger economics and political influence and subsequently results in the idea that local languages no longer have relevancy in this era.
The study, carried out between 2014 and 2017, successfully mapped out six local languages in South Sumatra which are Kayu Agung, Komering, Lematang, Malay, Ogan, and Pedamaran languages – along with their respective dialects.
The center also listed down a number of "immigrant languages" in the province, including Javanese, Bugis, and Bali languages.
And to preserve the languages, the center has also revitalized them by defining the phonology, morphology-syntax, and grammar aspects to then be documented. The languages are also registered and recorded so that students can learn them in school. With that strategy, it's expected that the younger generation will become familiarized with the languages and eventually have a comprehensive understanding.
"No language in South Sumatra has actually been classified as endangered or extinct, [but] they're experiencing low vitality. After revitalizing Malay, Lematang, and Komering languages, we target to do similar thing with Basemah language this year," Solikhan said on Monday, March 7, as reported by Antara.