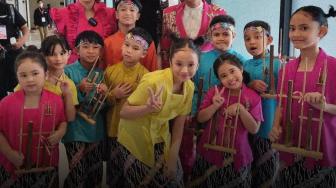 Saung Angklung Udjo was built with the purpose and dedication of conserving West Javas Sundanese traditional art and culture.
According to information gathered by the police, the incident began during the friendly match between Pepermi FC and YGS FC at the Cisaat Korpri Field in Sukabumi, West Java.
Widely known as home to the latest-fashion-trend in West Java Province, Bandung is always a good place for anyone who seeks high fashion clothing choices.
Husband and Wife in West Java Arrested for Blasphemy
TheIndonesia.id - The police has arrested husband and wife from Sukabumi, West Java, for blasphemy after a video of one of them stepping on the Quran was uploaded to social media.
DER and his wife SR was arrested by the Sukabumi Police on Thursday, May 5, for the alleged blasphemy while the two were on vacation, the police confirmed.
"The two of them were arrested on Thursday in Warungkiara subdistrict, Sukabumi regency, while they vacationed in Pelabuhanratu," chief of Sukabumi Police Pol. Adjunct Senior Commissioner SY Zainal Abidin said on Thursday, as reported by Antara.
The police revealed that the video of DER stepping on the Quran was recorded in 2020 by SR. They couple said the video was recorded at the time to threaten DER no to upset his wife and wasn't meant to insult Islam.
However, during their trip to a beach in Pelabuhanratu, the couple got into a fight, and SR ended up uploading the video to her Facebook account on Wednesday, May 4.
The video, in which DER could also be heard swearing, got viral and received many responses. The couple then decided to delete the video and the social media account.
Upon report, the police immediately arrested DER and SR to anticipate unwanted reaction from the public.
"The video was actually recorded by suspects in 2020 and was saved to be the wife's weapon for when the husband upsets her. [After uploaded] it turned out to be a problem," Abidin confirmed.
He said the two suspects will be charged with the Electronic Information and Transaction Law (UU ITE) with maximum sentence of six years in prison and Article 156a of the Criminal Code on Blasphemy and Religious Defamation for which they also face five-year imprisonment.