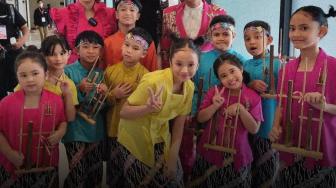 Saung Angklung Udjo was built with the purpose and dedication of conserving West Javas Sundanese traditional art and culture.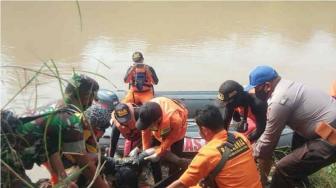 Sanuji has swept away while creating content catching snails in the Cisanggarung River.
Widely known as home to the latest-fashion-trend in West Java Province, Bandung is always a good place for anyone who seeks high fashion clothing choices.
Footballer Number 13 Died by Lightning During a Friendly Match
TheIndonesia.id - A footballer died on the spot due to being struck by lightning during a friendly match between Pepermi FC and YGS FC at the Indonesian Civil Service Corps Field (Korpri), Cisaat, Sukabumi Regency, West Java, Saturday.
"The victim who died was identified as Edi Kurniawan (45), a resident of Cangkorah Village, RT 008/004, Cikaret Village, Kebonpedes District, Sukabumi Regency," said Sukabumi City Police Chief Adjunct Grand Commissioner of Police S.Y. Zainal Abidin in Sukabumi, Saturday, August 13, 2022.
According to information gathered by the police, the incident began during the friendly match between Pepermi FC and YGS FC at the Cisaat Korpri Field. When the game just entered the 15th minute, suddenly lightning struck several times.
The referee who saw the unfavorable weather conditions asked for the match to be temporarily suspended. However, suddenly lightning struck again. All players, spectators, and the committee were surprised to see one of the Pepermi FC players number 13 on the back of the name Edi Kurniawan lying in the middle of the field.
Health workers immediately went to the center of the field to provide first aid. However, the victim did not respond at all, so they were taken to Betha Medika Cisaat Hospital for medical treatment.
However, unfortunately, the life of this man who works as an entrepreneur cannot be saved. After the visum et repertum, there were some burns on several parts of his body due to the lightning strike. After undergoing an examination, the body of the football player was handed over to his family for immediate burial.
Before this disaster occurred, said Zainal, the stadium manager and referee asked to postpone the match because of the rain, especially the sound of lightning several times. However, before the referee blew the whistle to signal the postponement of the match, lightning struck again, then hit one of the football players who were in the middle of the field.
"We have asked for information from several witnesses related to the incident. The case of the death of one of the footballers was purely the result of an accident or being struck by lightning," he said.