The farm was found on Saturday.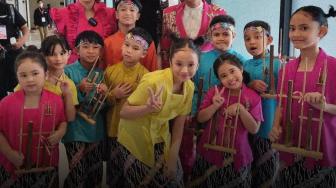 Saung Angklung Udjo was built with the purpose and dedication of conserving West Javas Sundanese traditional art and culture.
DPRA will invite medical experts and researchers to kick off the discussion.
Police Found 10-Hectare Cannabis Farm on a Mountain in West Java
TheIndonesia.id - The Cianjur police has confirmed that it found a total of ten hectares of cannabis farm on the slope of Karuhun Mount in Cimenteng village, West Java.
The police also reported that it's currently investigating a number of spots that are suspected to be the location for seeding process.
Chief of Cianjur police Pol. Grand Commissioner Adjutant Doni Hermawan said police found the cannabis farm after receiving reports from the public, and the first farm area found was located just two kilometers away from a pathway that's regularly passed by locals.
"Perpetrators intentionally planted the cannabis on an area that's rarely visited by people; they even planted it on the steep slope, so it could hardly be seen. A few hundred stems were even planted near the Gunung Padang Megalithic site that's far from the public," Hermawan said on Tuesday, June 28, as reported by Antara.
The majority of the farm were located in areas owned by state-owned enterprise Perhutani, and it's currently unknown how many people were involved in creating the cannabis farm.
The police said cannabis in seven farm areas are ready to be harvested next month. It has also warned the public to report any suspicious activity, so the perpetrators can be arrested soon.
"Report immediately if there's any suspicious activity near where [people] live. We will hunt the cannabis farmers until they're arrested," Hermawan affirmed.