DPRA will invite medical experts and researchers to kick off the discussion.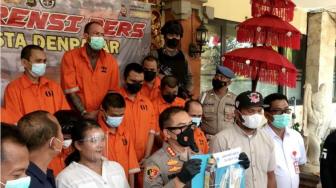 The Denpasar Police confiscated nearly 400 grams of liquid cannabis from a US nationality who was arrested in the Kuta area, Badung, Bali.
The operation took place on Thursday, July 21.
Two Hectares of Cannabis Farm in Aceh Destroyed by Authorities
TheIndonesia.id - The Military Command (Kodim) 0102/Pidie in Aceh province has found and destroyed two hectares of cannabis farm in Tangse Mountain in Pidie regency.
Commander of Kodim 0102/Pidie Lieutenant Col. Abd Jamal Husin confirmed that the farm had been found on Saturday, September 3, on a hill between Kebun Nilam and Ulee Gunong villages in Tangse subdistrict.
"Information about the two-hectare cannabis farm was sent by members of the public who were looking to get fibers from palm trees within the forest area," Husin said on Sunday, as reported by Antara.
According to him, the team had to reach the location on foot by passing through hills and steep valleys.
Upon reaching the farm, military personnel found dozens of cannabis trees that were estimated to be five months old and were about two-meter high.
The deployed team immediately destroyed the farm by pulling out the trees and burning them.
"Farm owner likely knew our movement towards the location, and we failed to find them at location," the statement said.