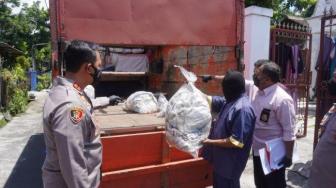 Animal lover organization Animal Defenders Indonesia reported that Solo is the biggest city consuming dog meat in Indonesia.

"The name is Bandaraya factory, which is planned to be operational next year," said Nestle Indonesia Corporate Affairs Director Sufintri Rahayu
"I encourage other big brands to follow Daikin's movement to immediately have production facilities in Indonesia, both to meet the needs of the domestic and export markets," said the Minister of Industry.
Kendal Special Economic Zone Raised US$1.8 Billion Investment
TheIndonesia.id - The Kendal Special Economic Zone (SEZ) offers special attractiveness to draw investment and create job opportunities in Central Java province, Coordinating Minister for Economic Affairs Airlangga Hartarto has said. Kendal SEZ has opened jobs for 12,030 workers.
"As the first industrial-based SEZ on Java Island, the Kendal Industrial Estate is expected to be a pilot as a successful industrial area in Indonesia," Minister Hartarto stated in an official statement issued here on Saturday.
As of July 2022, investment commitments have reached Rp27 trillion (US$1.8 billion) from 75 business actors from many countries, such as Singapore, Malaysia, Japan, South Korea, China, Taiwan, and Hong Kong, as well as domestic investors. The investments have led to the employment of 12,030 workers and generated an export value of US$50 million.
"From these data, we can see that the investment and fiscal facilities provided by the government, including tax holidays, have succeeded in increasing exports," Hartarto said.
As an area that bears the Special Economic Zone status, Kendal SEZ offers more advantages compared to other industrial estates, including facilities and conveniences in the form of fiscal and non-fiscal facilities from both the central and regional governments.
As an implementation of this policy, a fiscal facility in the form of free value-added tax has been proposed for taxable goods owned by business players in Kendal SEZ and for taxable services owned by business players in the SEZ for transactions until July 2022.
Moreover, nine business entities at the SEZ have obtained the corporate income tax reduction facility—PT Kawasan Industri Kendal, PT Masterkidz Indonesia, PT Maju Bersama Gemilang, PT Eclat Textile, PT Sinar Harapan Plastik, PT Auri Steel Metalindo, PT Borine Technology Indonesia, PT Global Textile, and PT Dharma Shunli Industry.
The government is committed to lending continuous support for the development of the Kendal SEZ so that it can improve and have a positive effect on increasing investment in Indonesia.
"The developments seen in the Kendal SEZ prove that the policies taken by the government have given good results. The investments (made here) have produced a lot of job opportunities for the surrounding community," the minister added.