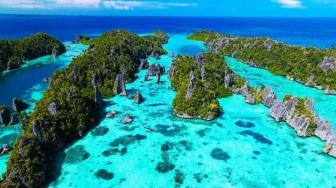 Here are 5 natural destinations in Indonesia to visit.
The Indonesian Embassy in Seoul has confirmed that talks with the South Korean government on a visa-free program are still ongoing.
Communication and Information Minister, Johnny G Plate, was detained by the Attorney General's Office (AGO) after allegedly being involved in a corruption case.
Why Do Indonesians Love Spicy Foods A Lot?
TheIndonesia.id - When you come to Indonesia and taste its foods, you will realize spicy foods are everywhere in this country. There are so many kinds of chili sauces or Indonesians call it sambal with different levels of spiciness.
You might wonder why Indonesian people love spicy foods? Well, here are some reasons you need to know.
1. It's easy to grow chilies
Many Indonesians think chili is native plant since it's really easy to grow them. At the beginning of the colonial era, they brought chili from South America to Indonesia and it worked, it grows well. Hence, chili plants spread throughout Indonesia.
This led to Indonesians using chili in most of their foods. Chili becomes the most common ingredient in Indonesian cuisine. Indonesians even have hundred types of sambal.
2. The spicier, the better!
Indonesian cuisine is not perfect without a spicy touch in it. We can say, almost 80% of traditional Indonesian culinary uses chili and has a spicy taste. Even Rendang, one of the tastiest foods in the world from Indonesia also uses chilies during the cooking process.
If Indonesian people eat a dish that is not spicy, they will always add chili as a side dish. The spicy taste is always right on the tongue of Indonesians.
3. Improving the moods
In Indonesia, spicy food is also considered to make people feel happy and addicted. The spicy taste is believed to be able to help release stress in the body, so many people choose to eat spicy food.
4. Non-spicy food is bland!
Indonesians consider non-spicy food as bland food. Some of them said that if you add sambal to your dish, your food will be tastier. The spicy taste will improve your appetite and you will enjoy your food more!
Those are the reasons why Indonesian people love spicy foods so much. If you come to Indonesia and you love the spicy taste, you will love Indonesian foods!