The rising flights costs have resulted in a declining numbers of domestic and international tourists in Bali.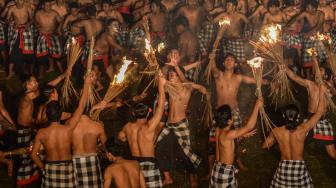 It will be held on August 24-28 at Astina Field in Gianyar, Bali.
Inviting more investment into the country and kicking off labor intensive projects are among the governments priorities.
Minister Says Bali 'Vulnerable' if It Continues to Be Dependent on Tourism
TheIndonesia.id - Minister of Cooperatives and SMEs Teten Masduki has recently warned Bali of a potential crisis if the island continues to rely heavily on tourism, especially since it is one of the worst hit sectors during the ongoing COVID-19 pandemic.
As reported by Antara, Masduki said Bali provincial government must start looking into prospects in other sectors, so its economy can stay sustainable even amid dire and unprecedented events.
"In investment theory, one shouldn't put all their eggs in one basket because if that basket drops, the eggs will break," Masduki said on Tuesday, August 9, 2022, emphasizing on the importance of diversification.
Bali is massively contributing to national economy through its tourism industry with up to 20 million tourists are estimated to visit the island every year.
And in 2020, Bali's economy contracted and recorded a 12-percent decrease after the global COVID-19 outbreak.
The Minister said among the reasons behind the economic contraction was Bali's dependency on tourism which, at one point, nearly experienced a total shutdown as mobility restrictions were imposed all around the globe. And he suggested establishing Bali as a global trade hub like Singapore.
"If in the past Bali was visited by people, now Bali must visit people. We must prepare this and translate the concept into more details," he said.
The state official also mentioned art and craft products from Bali as having great potential to enter global market. In addition, promoting local products will also simultaneously promote and support the micro, small, and medium enterprises (MSMEs).
With its potentials, Masduki said he is optimistic that Bali will successfully rebrand itself as a trade hub and will gradually decrease its dependency on tourism.