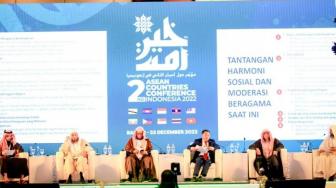 This conference can hopefully strengthen the position of ummah on the global stage."
The governor revealed that tourist attractions and regions that will be designated as EV-only zones are Nusa Dua, Kuta, Sanur, Denpasar, Ubud, Gianyar, and Nusa Penida.
As of Tuesday, 750 journalists from 156 media have registered. 547 Journalists are from 111 international media and 203 journalists from 45 national media.
Bali Tourism Suffers Severely from the Endlessly Rising Flight Costs
TheIndonesia.id - Deputy governor of Bali said the seemingly continuous rising air fares continue to gravely impact tourism industry as the number of tourists coming to the island decreases in the last few periods.
Tjokorda Oka Artha Ardhana Sukawati said the rising flights costs have resulted in a declining numbers of domestic and international tourists in Bali.
"We can see [the decline], especially among domestic tourists. Previously, the number of domestic tourists far exceeded the international ones, but the difference is smaller now. Sometimes, there are 10,000 of international tourists and 11,000 domestic tourists [coming to Bali] in a day," Sukawati said on Thursday, September 22, as reported by Antara.
He said this phenomenon has been interfering with the economic recovery efforts made by authorities, and they are now considering attempts make intervention and lower the costs of airline tickets.
The deputy governor revealed that local government had submitted the request to the Ministry of Transportation, but it had yet to respond.
While the decrease in tourist visits happened "quietly" and gradually, Bali government still sees the rising air fares as a threat because it can potentially be more damning than it currently is.
To encourage more tourists to come to Bali, the provincial government has been encouraging various events to be held in the island.
Besides inviting more visitors, Sukawati said authorities are also focusing on increasing occupancy rate in different properties in different cities, including Sanur dan Ubud.