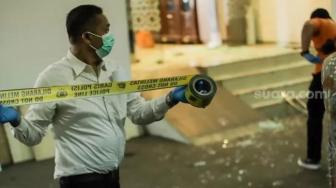 A man opened fire at the Indonesian Ulema Council (MUI) office in Jakarta on Tuesday (5/2/2023).
President Joko "Jokowi" Widodo stated that the government will relocate residents living near the area.
"Because it is compartmentalized, it is protected from potential fire propagation."
IMEI Registration Disrupted by Fire in Data Center Building
TheIndonesia.id - Indonesia's Ministry of Information and Communication Technology reported there has been disruption in the International Mobile Equipment Identity (IMEI) number registration, after data center was shut down due to fire in the building.
As reported by Antara, spokesperson for the Ministry Dedy Permadi has confirmed the ongoing disturbance. He said fire that broke out in Cyber 1 Building, Jakarta, on Thursday, December 2, has impacted the date center or server that manages the Central Equipment Identity Register (CEIR). The center has been shut down, and it disabled IMEI identification through CEIR.
"The disruption in CEIR also impacts service for IMEI [registration]," Permadi told Antara on Friday, December 3.
As a result, several services by ministries and state agencies subsequently experience similar disturbances.
IMEI registration by Directorate General of Customs and Excise for mobile phone, notebook, and tablet which are part of passenger's luggage or shipment is currently impacted.
The disruption also impacted IMEI registration for devices owned by state guests as well as VIP and VVIP individuals, which is conducted by the Ministry of Foreign Affairs.
Mobile network operator will also experience similar issue in IMEI registration for foreign tourists and SIM card replacement by their customers.
IMEI registration for product registration in the Ministry of Industry and activation process for new devices are also currently impacted.
Permadi said all processes will return to normal after post-fire recovery takes place in the building.
"We're waiting for updates from the managements of Cyber 1 Building and CEIR Data Center to determine the next measures," he concluded.
On Thursday, a fire broke out in Cyber 1 Building in West Kuningan, South Jakarta. 22 fire trucks and 100 personnel were deployed to help extinguish the fire. Two people lost their lives in the fire, and authorities disclosed both victims died from smoke inhalation and not burns.