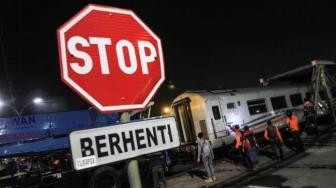 An accident involving a passenger train and a truck occurred in Semarang on Tuesday, July 18, 2023.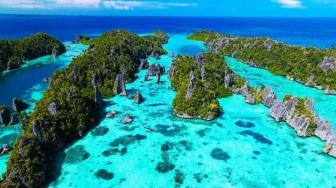 Here are 5 natural destinations in Indonesia to visit.
Yoursay.id successfully held an exciting event titled "Yoursay Explores Kotagede" on Saturday (May 20, 2023), in the area of Kotagede Mosque and several historical sites around it.
5 Must-Visit Esthetic Historical Places in Semarang
TheIndonesia.id - Semarang, the capital city of Central Java, has many things to offer tourists. You can enjoy esthetically pleasing architecture, delightful culinary, and of course, the city's historic places.
Quoting the Ministry of Tourism data, here are the five must-visit esthetic, historical sites in Semarang:
Semarang Old Town has become one of the most iconic places to visit in Semarang. The place is widely known for its countless historical sites.
Since a long time ago, Semarang's old town has become the central hub of Semarang, where many cultures assimilate. You can see European architectural style buildings near several Buddhist temples with classic Chinese architecture.
Try dining at Spiegel Bar and Resto to embark on a worldwide culinary journey while being accompanied by the vintage vibes of the restaurant's interior. Then, visit Blenduk Church to see the neo-classical heritage from colonial times. Don't miss to check out Marabunta, an old Dutch theatre decorated with two giant ants hanging above its entrance.
Global tourists who want to visit the Semarang Old Town, can grab a taxi at Ahmad Yani International Airport Semarang and travel for only 20 minutes.
2. Get Yourself Familiar with Indonesian Railway History in Ambarawa Museum
Ambarawa Museum shows you the history of locomotives in Indonesia. The museum is located between Semarang and Salatiga. Starting as a Dutch-owned station named Willem I, the museum is filled with numerous interesting locomotive-related items from the Dutch East Indies era to the pre-independence period. It shows the facilities, infrastructure, and administrative equipment. Uniquely, you can also witness a couple of steam locomotives. Don't forget to bring your camera to capture the rarely seen vintage trains.
The museum takes 1,5 hours car ride from Ahmad Yani International Airport through Semarang-Solo and Ungaran Bawen Highway. For more information, check https://heritage.kai.id/page/museum-ambarawa.
3. Explore the Traditional Indonesian Houses in Grand Maerakaca
Grand Maerakaca is the best place to kick off your historical exploration journey in Semarang. The location is near Ahmad Yani International Airport.
Grand Maerakaca is a recreation park full of Indonesian traditional houses replicas. You can see houses from around Indonesia's country areas such as Sumatra, Java, Bali, Kalimantan, Sulawesi, to Papua.
Not only offers the Indonesian house replica, the Grand Maerakaca also offers several instagramable attractions such as enchanting mangrove forest and Lumina, a brand new park featuring 25 models of houses from around the world such as Greece, Japan, Saudi Arabia, and the United States.
4. Dusun Semilir
After checking the traditional Indonesian houses, you should get some fun in Dusun Semilir Eco Park. Located in Bawen district, the park offers you plenty of exciting rides, eye-catching photo spots, restaurants serving delectable foods, as well as lodges with enchanting architecture.
Explore little Europe at Alun Eropa, then get your adrenaline pumped by playing at Wahana Perosotan. Take a break by enjoying Indonesian foods at Gunungan Resto, then continue your trip by going on a shopping spree for some unique Indonesian crafts. Have some rest by chilling to the tropical vibes of Banyu Biru, then end your trip by strolling through the colorful Jalan Kenangan while tasting finger-licking street foods.
The place takes one hour car ride from Ahmad Yani International Airport through Semarang-Solo and Ungaran-Bawen Highway.
5. Night Stroll at Simpang Lima
End your day by taking a night stroll around Simpang Lima, a plaza located right at Semarang downtown. Here, you can enjoy the lovely nighttime ambience of Semarang, featuring the glimmering lights of the passing tricycles. Don't miss the chance to taste various mouth drooling Semarang street food around this plaza!