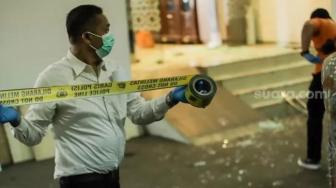 A man opened fire at the Indonesian Ulema Council (MUI) office in Jakarta on Tuesday (5/2/2023).
"Because it is compartmentalized, it is protected from potential fire propagation."
Sitting on the "hottest spot" of the Ring of Fire, Indonesia has the most spectacular active volcanoes that truly offer thrilling sensations.
Thousand People Seek Refuge after Pertamina Fuel Storage Station Fire
TheIndonesia.id - The Jakarta Regional Disaster Mitigation Agency (BPBD) recorded that 1,085 people had sought refuge after a fire broke in the Capital Jakarta Pertamina's fuel storage station Friday (March 3).
The storage operated by Indonesia's state energy company Pertamina was fired on Friday at 8 p.m. local time, burning hundred of houses and sending nearby residents in the densely populated areas into a panic.
Authorities initially put the death toll at 17 but revised it later to 15. Dozens were injured and thousand of people were displaced.
President Joko "Jokowi" Widodo stated that the government will relocate residents living near the area. The decision will rest with State-owned Enterprise Minister Erick Thohir, Pertamina, and Jakarta Governor Heru Budi Hartono, he said on Sunday (Mar 5).
"We do have a clear solution to this problem," the president said as he visited survivors in temporary shelters in Plumpang. He said the decision would be made in a day or two.
The fire was from a fuel station with a capacity of over 300,000 kilo-liters, spreading to nearby houses, panicking people in the densely populated areas.
Investigation continues into the cause of the fire. Pertamina company said that a pipe leak was detected before the blaze.
The storage station might be relocated to artificial islands off the north coast of Jakarta, Jokowi said, adding that ideally the station would be surrounded by river, not a settlement.
Seventeen artificial islands built by Jakarta Government under the reclamation project have been abandoned in recent years.