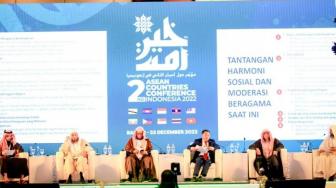 This conference can hopefully strengthen the position of ummah on the global stage."
The governor revealed that tourist attractions and regions that will be designated as EV-only zones are Nusa Dua, Kuta, Sanur, Denpasar, Ubud, Gianyar, and Nusa Penida.
The rising flights costs have resulted in a declining numbers of domestic and international tourists in Bali.
Indonesia Eases Visas for Foreign Journalists Covering the G20 Summit
TheIndonesia.id - The Indonesian Ministry of Communication and Information (Kominfo) to ease journalists especially foreign journalists who are covering the G20 Summit in Bali on November 15-16, 2022, to obtain visas. About 750 journalists have been registered to cover the summit.
"We are trying to make it easier for fellow journalists, especially foreigners, to get visas," said Director General of Information and Public Communication, Ministry of Communications and Informatics, Usman Kansong, in Jakarta, Tuesday, September 20, 2022.
He said the Ministry of Communication and Informatics had coordinated with the Ministry of Law and Human Rights (Kemenkumham), in this case, the Directorate General of Immigration. "So basically we are making it easier to get visas," he said at a press conference on Media Registration Preparation and Covering Mechanisms for the G20 Summit.
On that occasion, Kansong also said that the Ministry of Communication and Informatics has prepared a media center that can accommodate up to 1,500 journalists covering the G20 Summit. "The G20 Summit media center also has a press conference room with a capacity of 443 people complete with translators in five languages," said the former journalist.
He added that the Ministry of Communication and Informatics also provides transportation facilities in the form of a shuttle bus that serves journalists from the door of the G20 Summit area complex to the location of the G20 Summit media center. "In the complex, everything uses electric cars. We have an energy transition theme, so all use electric cars," he said.
Kominfo, he continued, also prepared press releases, up to a press conference agenda from some sources, both ministers and G20 heads of state. "There will be statements from some sources, both ministers or heads of state. We will try to discuss later so that later friends can get first-hand information," he said.
As of Tuesday, 750 journalists from 156 media have registered. 547 Journalists are from 111 international media and 203 journalists from 45 national media. Registered media can collect the ID badge at the Courtyard Bali Seminyak Resort by showing the antigen swab test result at the ID badge collection location.