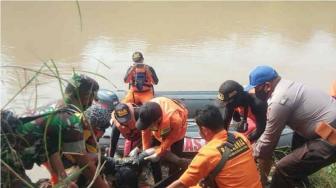 Sanuji has swept away while creating content catching snails in the Cisanggarung River.
According to information gathered by the police, the incident began during the friendly match between Pepermi FC and YGS FC at the Cisaat Korpri Field in Sukabumi, West Java.
Indonesia's legendary Qasidah group, Nasida Ria, performed at a music festival in Kassel, Germany.
Giant Fish Found Stranded after Flash Flood in Garut
TheIndonesia.id - The flood disaster in Garut, West Java Province on July 15, 2022, left an interesting story. The residents found a stranded giant fish identified as an Arapaima in residential areas around Cipejeuh, Garut.
Check the video to know more!
Script/ Video Editor: Aulia Hafisa/ Praba Mustika