The rising flights costs have resulted in a declining numbers of domestic and international tourists in Bali.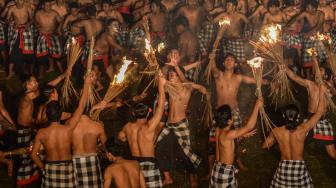 It will be held on August 24-28 at Astina Field in Gianyar, Bali.
Ngurah Rai International Airport in Denpasar currently only has one runway and cannot be developed anymore due to land issues so if something happens at the airport, Bali's air access is also practically closed.
Bali's Gilimanuk-Mengwi Toll Road to Have Bike Lanes
TheIndonesia.id - Minister of Public Works and Public Housing (PUPR) Basuki Hadimuljono revealed that the Gilimanuk-Mengwi Toll Road in Bali will be equipped with a special bicycle lane to support tourism in the area. This project is part of the National Strategic Projects.
"This may be the first toll road with a bicycle lane in Indonesia, because it is a tourist area. So we also have to adapt to the needs of the tourist community," said PUPR Minister Basuki Hadimuljono while attending the signing of the Gilimanuk - Mengwi Toll Road Development Agreement in Bali as monitored virtually from Jakarta, Tuesday, March 8, 2022.
According to him, the Gilimanuk-Mengwi Toll Road, Yogya-Solo Toll Road, and Bawen-Yogya Toll Road are part of the National Strategic Project (PSN) which must be implemented immediately. Minister Basuki also advised that the construction of the Gilimanuk-Mengwi toll road must always maintain and pay attention to the harmony of toll road construction with the environment.
"We will build as best as we can and with all our might to continue and maintain the environment. The first idea was, we were going to build a toll road in the middle of Bali, but I feel that if we build a toll road in the middle of the island of Bali that divided, it will damage the environment a lot, so we take the one that stretches along the beach," he said.
The Gilimanuk - Mengwi Toll Road will be the second segment in Bali after the Bali Mandara Toll Road which aims to develop the tourism sector in Bali, especially increasing connectivity from Gilimanuk Port to Sarbagita Metropolitan area which often experiences congestion. Sarbagita comprises of Denpasar City, Badung Regency, Gianyar Regency and Tabanan Regency.
The Gilimanuk – Mengwi Toll Road is administratively located in several areas, namely Tabanan Regency, Badung Regency, and Jembrana Regency, which was built with an investment of IDR 24.6 trillion ($1.7 billion). Construction will begin in June 2022 and is expected to be completed and operational by November 2024.
The Gilimanuk - Mengwi toll road is divided into three sections. Section 1 with a length of 54 km connects Gilimanuk and Pekutatan. Section 2 with a length of 23 km connects Pekutatan and Soka and finally Section 3 with a length of 18.9 km connecting Soka and Mengwi.
The Gilimanuk-Pekutatan toll road section will be equipped with four lanes for two-way vehicles, while the Pekutatan-Mengwi toll road section will be equipped with lanes for motorcycles, bicycle lanes, and pedestrians.