The rising flights costs have resulted in a declining numbers of domestic and international tourists in Bali.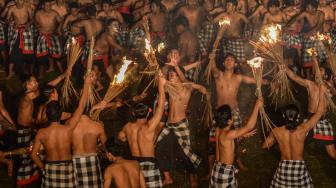 It will be held on August 24-28 at Astina Field in Gianyar, Bali.
"In investment theory, one shouldnt put all their eggs in one basket."
Russian Mother, Daughter Deported from Bali After Abandoned by Husband
TheIndonesia.id - Bali's immigration office revealed that it has deported two Russian nationals for overstaying their visas for 956 days.
According to head of Bali regional office of the Ministry of Law and Human Rights Jamaruli Manihuruk, 33-year-old LN and her three-year-old daughter VN was deported on the evening of Sunday, April 10, as reported by Antara.
"LN, which has been deported, will be included in the entry ban list in the Directorate General of Immigration and will be denied entry to Indonesia for the next six months," Manihuruk said on Monday.
According to him, LN, her daughter VN, and her husband SAN arrived in I Gusti Ngurah Rai airport with tourist visas from Russia on July 24, 2019. The family stayed at a guest house in Ungasan, South Kuta, and in December 2021, SAN left the two people for work in Malaysia. He then later returned to Russia.
"LN understood that she and her daughter only got a 30-day stay permit, and it was expired in August 2019. However, her husband kept assuring her that visa-related matters will be resolved and that there would be no issue," Manihuruk explained.
After SAN went to Malaysia, his family was initially able to contact him. At the time, he said he couldn't return to Bali because his passport's validity was less than six months.
Eventually, he could no longer be contacted.
And on April 4, 2022, driven by financial difficulty, LN made a report to Class I Immigration Office Ngurah Rai where it was revealed that LN and VN had overstayed their visas for 956 days.
They were detained at the immigration detention center in Denpasar due to flight ticket-related issue, but after it was resolved, their plane to Moscow took off at 9:49 p.m. Central Indonesian Time (WITA) on Sunday.