The victims were taken to Ananda Hospital and Bekasi Regional Public Hospital (RSUD).
Motorcycle riders can reduce the risk of accidents and higher level of damages it causes.
A car was hit by a commuter line train in the Citayam area, Depok, West Java.
Police Confirms 11 Dead in Traffic Accident in Bekasi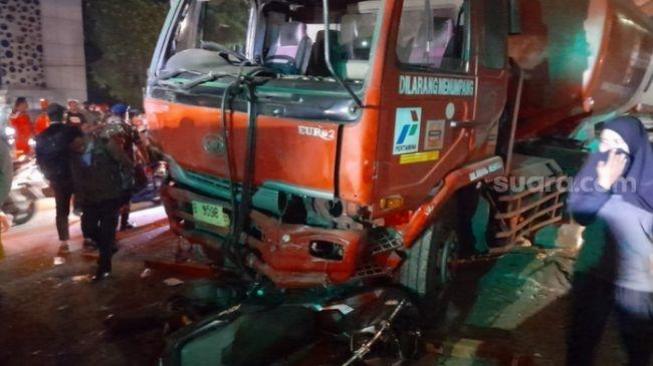 TheIndonesia.id - The police has confirmed that at least 11 people died in a traffic accident in Bekasi, West Java, which involved multiple vehicles.
Director of traffic at Jakarta Metro Police Pol. Chief Commissioner Latif Usman said the accident that happened at Jalan Raya Alternatif Transyogi-Cibubur in Bekasi on Monday, July 18, claimed the lives of 11 people after it was previously confirmed that eight people died in the accident.
"As of now, the victims are at Kramat Jati [Hospital], and 11 people were killed. But we'll recheck [the information] and the identity of victims. We'll also involve [police's medical unit] Dokkes for examination," Usman said on Monday, as reported by Antara.
He said the police still continues to gather information on people injured and killed in the road accident.
The multiple-vehicle crash happened when fuel tanker owned by oil and gas corporation PT Pertamina crashed into motorcycles and cars at the Jalan Raya Alternatif Cibubur at about 4.00 p.m. local time.
Jatisampurna Police previously confirmed that eight people were killed in the accident.