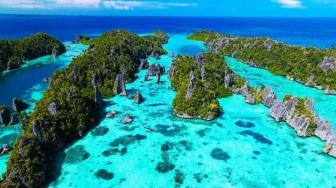 Here are 5 natural destinations in Indonesia to visit.
The Indonesian Embassy in Seoul has confirmed that talks with the South Korean government on a visa-free program are still ongoing.
Communication and Information Minister, Johnny G Plate, was detained by the Attorney General's Office (AGO) after allegedly being involved in a corruption case.
5 Reasons Why You Should Visit Raja Ampat, West Papua
TheIndonesia.id - Looking for a destination to escape from endless routine and noisy city life? Look no further. Raja Ampat will be the best option for you. Located in West Papua, it's definitely an ultimate paradise where you can meet incredible wonders and friendly people welcoming you.

Read these 5 top reasons why you need to visit Raja Ampat Indonesia. Let's have a check!
1. Breathtaking Views
If there is a place in Indonesia that has such an iconic landscape, it is Raja Ampat. The formations of limestone gushed out of the crystal blue waters, and the islands were decorated like they were thrown by the handof God. One of the most well-known views you have to see is in the Piaynemo Islands. You will see extraordinary outlooks, especially when oranges and pinks fill the sky at sunset.

2. Raja Ampat Diving and Snorkeling
Raja Ampat is definitely a heaven for divers and snorkelers. Along with more than 1,200 various fish species, this place will give you an unforgettable diving experience. As you dive, you will see dolphins, colorful fish, and Manta rays. The coral here is also mainly pristine! It's no wonder why this place is considered one of the best 10 diving sites in the world. As you come here, you will adore the underwater views as well as diverse underwater creatures.

3. Birdwatching
West Papua in general is a great and popular place for birds of paradise. If you are a bird-watching enjoyer, visiting Raja Ampat Indonesia is a must! There are some known birds of paradise that can be discovered in Sawinggrai Village.

4. Warm and Friendly Local Peoples
Consisting of a variety of small island neighborhoods, Raja Ampat is a place where you have the opportunity to meet warm and friendly people here. They will welcome you as guests and they will proudly show you their traditional music, crafts, and dances. Along with the incredible views and attractions, you can immerse yourself in the local culture as well. It will be remarkable memories you will never forget.

5. Pristine Natural Beauty
For those who are looking for a place with ultimate tranquility and nature, Raja Ampat is the top-notch answer to getaway. You can enjoy ultimate natural beauty starting from dense jungles to the islands' purity. Thanks to the remoteness of Raja Ampat, you can enjoy hikes and travels to pure nature without meeting other people. you will have the place to yourself and it will be the best escape ever!