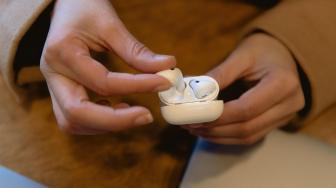 This guide will show you the steps to connect AirPods to Android and Windows using Bluetooth.
Are you a new Samsung user and have no idea how to screenshot on a Samsung phone? You are coming to the right place. For Samsung users who have trouble to screenshot, here are some steps you can follow.
If you are a new Apple user, especially just migrating from Windows, you might be wondering how to screenshot on Mac.
4 Ways on How To Screenshot on Windows 11, Easy Guide Tutorial
TheIndonesia.id - Screenshot is one of a feature in the Windows program, used to capture the screen. Just like screen-capturing the phone, you can take a picture of a particular part or the whole part of your screen by combining some tools and keyboard keys.
There are four quick ways to screenshot on Windows 11. Here are the following steps.
1. Using a shortcut combination
You can take screenshots by pressing the Windows + print screen or Windows + fn + pr scr on the keyboard.
The picture will be directly stored in your storage.
2. Using snip and sketch tools
Snip and sketch are tools in Windows 11 that can be accessed via the Start menu.
After taking the screenshot, you can save the picture by pressing the ctrl + s button.
3. Using prt sc button
Press the prt sc key on the keyboard, then open the Paint application. Press the ctrl + v keys to paste the picture you've just taken.
By doing this command, the screenshot will immediately appear in the Paint application. After that, you can save the screenshot by selecting the File menu > Save As > Save.
4. Using the game bar
The last option to screenshot your screen is by pressing the Windows key and g on the keyboard. That will bring up a new window with the game bar view.
Click on the camera icon to take a screenshot and the picture will appear in the gallery.
You can open the screenshot file by clicking the Open file location button which is located in the lower-right corner.
By doing one of the methods above, You can easily take screenshots on Windows 11.