How To Cut a Mango, 6 Practical Ways to Peel, Slice, and Dice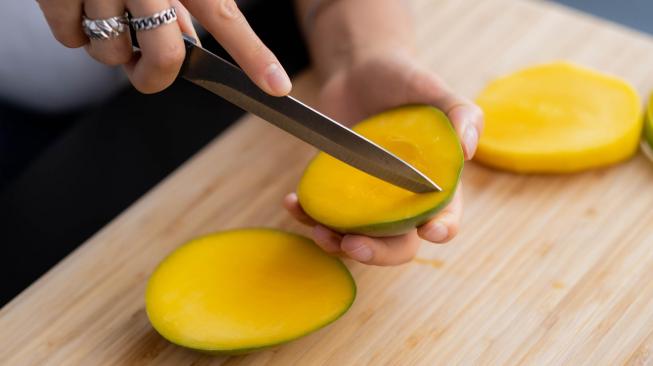 TheIndonesia.id - Manggo is a fresh fruit spread around the tropical country like Indonesia. The sweet and sour taste of mango is very addictive. However, you can't straightly eat them up. Peel them first before you taste them. Here are six ways to slice mangoes.
Quoting Healthline, here are 6 ways to slice a mango.
1. Cut the mango vertically
One of the easiest ways to cut a mango is to cut it vertically. Cut the green yellowish fruit into thirds. Two parts of the flesh and one part of the mango seeds. Then, use a large spoon to scoop out the meat and transfer it to a bowl, or you can eat it right away.
2. Thinly slice the mango skin
Thinly slice-the-skin-and-throw-it is the most used method by Indonesians. You need the help of a sharp knife to peel the skin. Use a cutting board to hold the mangoes for beginners. Mangoes have a slippery and runny texture, so it's a bit risky for beginners to cut them without a cutting board.
3. Cut the mango into cubes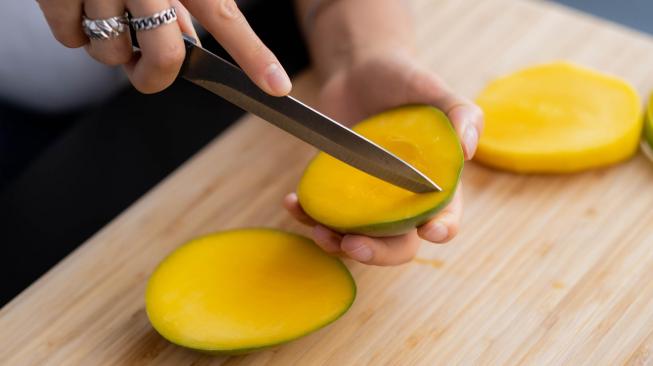 Cutting a mango into cubes is known as the hedgehog or turtle method. Use a knife to split the fruit vertically. Hold the skin, then slice vertically and horizontally. Do not let the slice penetrate the skin. Scoop the sliced flesh of the mango and put it in a bowl or glass.
4. Cut with a peeler
The next way to cut a mango, you can use a peeler for thinner slices. Peel the mango skin and slice the mango flesh with a sharp peeler. Slice the mango flesh down to the seed.
5. Cut with a mango splitter
If you want a practical way of cutting mangoes, you can use a mango splitter. This tool is specially designed to split mangoes into two parts. In this way, place the mango on the cutting board and center the seed separator knife over the mango seed area. Use your hands to push the slicer into the center of the mango, removing the seeds and scooping out the pulp.
6. Cut with the help of a glass
How to save time when you want to enjoy mangoes, you can use a drinking glass. First, cut each piece horizontally with a sharp knife. Cut into three parts, two parts of the flesh, and one part of the mango seed. Hold the skin on the pulp and push the rim of the drinking glass to separate the flesh and skin. Do this movement until the meat is released and is in the glass. Pour the flesh into a bowl and repeat for the other half of the mango flesh.