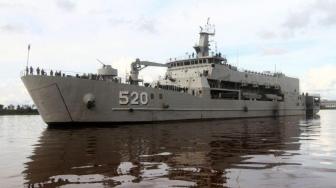 Meanwhile, the Koarmada I Headquarters in Jakarta will change into the Indonesian Command Fleet (Koarmada RI) Headquarters.
The Maros Pangkep Geopark area is officially included as part of the UNESCO Global Geopark (UGG) based on the UNESCO Global Geopark council meeting in Thailand.
There are limits to how far the East Asian country will go to provide support (in any form) for Indonesia in the long-standing territorial disputes with China in the South China Sea
Natuna Prepares to Become UNESCO Global Geopark
TheIndonesia.id - The Natuna Tourism Office held an art and cultural event at Piwang Beach, Ranai, Natuna District, Riau Islands Province, on Sunday, as part of preparations for Natuna to become a UNESCO Global Geopark (UGGp).
"Actually, this is a routine agenda of the Tourism Office which every two weeks hold Geo Sport and Bazaar, as well as cultural arts performances, involving the Youth and Sports Office, the Environment Office and other related offices," Head of the Natuna Tourism Office Hardinasyah, as quoted by Antara on Sunday, June 19, 2022.
Cultural and art performances are routinely organized twice a month, on Saturday and Sunday with the participation of high school students. among others. The activity involves various related agencies within the Natuna Regency Government as well as local communities and cultural arts activists so that all parties are involved in supporting Natuna towards UNESCO Global Geopark.
Bazaar is organized by involving various related offices such as the local offices of fisheries, industry, and women's empowerment, he said. In addition to the UNESCO Global Geopark preparations, the sport and bazaar event is expected to help boost the local economy, according to him.
"It turns out that it has a huge impact on economic growth, for instance, MSMEs, thanks to the bazaar activities, their turnover reaches tens of millions of rupiah, although the event is held only for a few hours. Today it's 10 million rupiah, previously 14 million rupiah and once it had even reached 20 million rupiah," he said.
He said Natuna plans to organize a Natuna Expo in October this year to celebrate the district's anniversary. "It will also become a tourist attraction for one week," he said.
Meanwhile, Natuna's Village Facilitator for the Cultural Advancement Program of the Ministry of Education and Culture, the Directorate General of Culture Nurizam said that UNESCO Global Geopark status is significant for the economy and tourism of the district.
It would also help the preservation of Natuna culture and arts, he added.