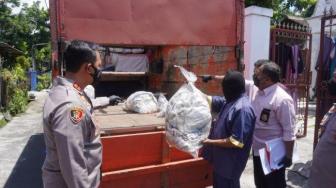 Animal lover organization Animal Defenders Indonesia reported that Solo is the biggest city consuming dog meat in Indonesia.

"The name is Bandaraya factory, which is planned to be operational next year," said Nestle Indonesia Corporate Affairs Director Sufintri Rahayu
Commemorating the 72nd Anniversary, Ganjar Pranowo, the Governor of Central Java, has held a Rapsodia Nusantara concert at Sampookong Temple.
Let's Note, Dieng Cultural Festival XIII Starts on September 2, 2022
TheIndonesia.id - The accommodation in Dieng Kulon Village, Banjarnegara Regency, Central Java, has been fully booked by tourists ahead of the XIII Dieng Culture Festival (DCF), said the Head of the Tourism Awareness Group (Pokdarwis) "Dieng Pandawa" Alif Faozi. The committee targets 3,500 visitors to attend this festival.
"All homestays in Dieng Kulon, which amount to around 200 units, have been ordered by tourists, as well as hotels," said the Chairman of the DCF XIII Committee when contacted from Purwokerto, Banyumas Regency, Monday, August 29, 2022.
He said in addition to hundreds of homestays located in Dieng Kulon Village, Batur District, Banjarnegara, tourists have also booked homestays in some villages around the location of DCF XIII activities, including in Dieng Wetan Village, Kejajar District, Wonosobo Regency. Even based on information, he said, about 90 percent of homestays in Dieng Wetan Village have also been booked by tourists.
"Several homestay owners who have not been contacted by tourists have also coordinated with us so that they can be informed to potential tourists if there are still homestays that can be used," he said.
In addition to lodging, several basecamps for climbing Mount Prau have also started to open camping grounds to serve potential tourists who want to camp during the DCF XIII performance which will be held on September 2-4, 2022. According to him, several houses in Dieng Kulon Village that have not been used as homestays are also ready to accept tourists who want to stay during the DCF XIII performance.
Alif said that the organizer also plans to open on-the-spot ticket sales to serve tourists who want to buy tickets directly at the location of DCF XIII activities. "We provide around 500-1,000 tickets which are sold on the spot. According to the plan, we are targeting the DCF XIII performance to be visited by around 3,500 tourists," he said.
In this regard, he said that on Monday, the organizer would hold a plenary meeting to prepare for the DCF XIII performance by involving all stakeholders. According to him, the plenary meeting will discuss, among other things, traffic engineering around the activity locations, including the provision of health posts.
"We will also discuss several changes in the series of activities, one of which is regarding the opening of DCF XIII, which was previously scheduled to be held on Friday, September 2, morning, has been shifted to noon," he said.
The QRIS Jazz Above the Clouds will also be held on Friday afternoon after the opening of the DCF XIII event, while the Ruwatan procession for dreadlocked children will be held on Saturday. Although the DCF XIII performance will officially open on Friday afternoon, Alif said that traditional cultural arts performances will still be held since Friday morning.