The screenshot feature is an important feature to take a screenshot or video recording.
One of the common problems encountered by Apple users (iPad, iPhone, or Macbook) is AirDrop which can't receive data. So, why can't AirDrop receive data on an iPhone, Macbook, or iPad?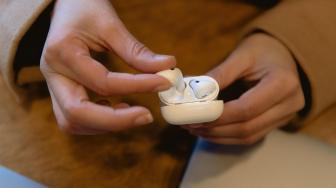 It is very important to know how long your AirPods battery will last, especially if you are outside. Luckily, you can check your AirPods battery from your iPhone, iPad, or Mac computer.
How to Change Apple ID Password on iPhone, iPad, and Mac
TheIndonesia.id - Apple ID is the key for users to enjoy integrated services in the Apple ecosystem including App Store, iCloud, iMessage, FaceTie, etc.
Every Apple device user must have an Apple ID to set up the device and enjoy Apple services. Apple recommends changing your Apple ID password periodically to help keep your account secure.
When choosing a new Apple ID password, you must think of a unique word.
Apple sets the minimum criteria for a password consisting of a minimum of 8 letters with at least 1 number, 1 uppercase letter, and 1 lowercase letter.
Users are also not allowed to use old passwords that have been used.
For those of you who want to change your Apple ID password for account protection, here are the steps.
How to Change Apple ID Password on iPhone and iPad
1. Open Settings then click on your Apple ID profile name photo.
2. Select Password & Security.
3. Select Change Password.
4. Enter the passcode.
5. Enter the new password and verify the new password, then click Change
How to Change Apple ID Password on Mac
1. Click the Apple menu in the upper left corner, then click System Preferences.
2. Click Apple ID and Change your Password
3. Enter the password that you normally use to open a Mac device
4. Enter the new Apple ID password and verify it.
5. Click Change.